Grilled Indian Chicken Skewers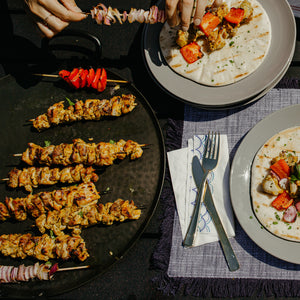 Ingredients

:

2 pounds boneless, skinless chicken breast, cut into 2-inch cubes
1 ½ cups plain yogurt
½ cup red onion, chopped
1 clove garlic, minced
1 tablespoon fresh lemon juice
2 teaspoons garam masala
2 teaspoons chopped cilantro, additional for garnish
1 teaspoon freshly grated ginger
1 teaspoon sea salt
½ teaspoon turmeric
½ teaspoon paprika
½ teaspoon cumin
¼ teaspoon cayenne
Directions

:

Place the chicken in a 9 x 13 inch baking dish.

Combine the yogurt, onion, garlic, lemon juice, garam masala, cilantro, ginger, salt, turmeric, paprika, cumin and cayenne in a bowl.

Spread the mixture over the top of the chicken.

Cover the dish and refrigerate for 4-6 hours.

Remove the chicken from the refrigerator and let sit out for 30 minutes.

Thread the chicken onto the skewers (if using wood skewers, soak them in water for 30 minutes prior).

Grill using medium-high heat until the chicken is cooked through, about 20 minutes. Rotate skewers as needed.

Garnish the skewers with additional cilantro before serving. 

Serve with MYBREAD gluten-free garlic butter naan.
Leave a comment
Comments will be approved before showing up.