Garlic Butter Gluten-Free Naan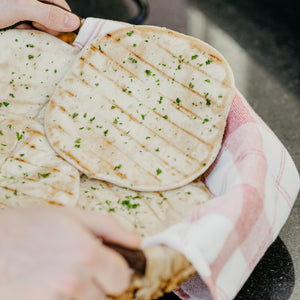 Ingredients

:

1 pack MYBREAD® Flatbread Pita
4 tablespoons butter, melted
3 cloves garlic, minced
2 tablespoons fresh chopped parsley for garnish (may substitute with other greens or seasonings to taste)
Directions

:

Stir butter and garlic together in skillet over medium heat until butter is melted.

Brush MYBREAD flatbread with melted butter and garlic mixture.

Grill MYBREAD flatbread using indirect, medium-hot heat. Approximately 2-3 minutes per side or until flatbread develops golden brown color notes and grill marks.

Flip the flatbread and grill the other side. Continue to brush with remaining butter mixture. 

Remove the naan from heat and arrange on a serving platter.

Garnish with fresh chopped parsley or your favorite seasonings.
Leave a comment
Comments will be approved before showing up.
---
Also in Recipes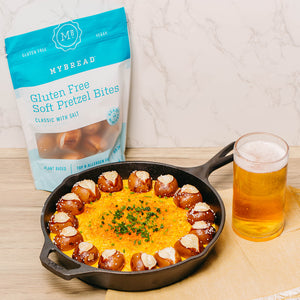 This creamy, smooth GF beer cheese dip is an easy appetizer recipe that's ready in 15 minutes. Flavored with your favorite GF beer, garlic, a bit of dijon mustard, and lots of cheddar cheese, this dip is extra flavorful and awesome with MYBREAD Soft Pretzel Bites!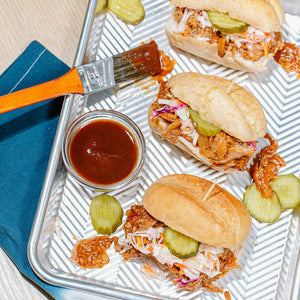 Slow Cooked, Texas-style pulled pork that is served on a buttered and toasted gluten-free slider rolls. A family favorite.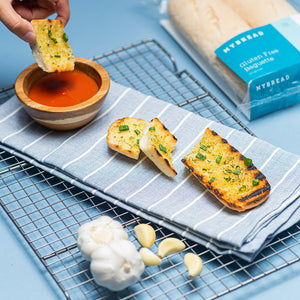 A quick and easy, but delicious side for summer dinners. Hot, smoky garlic bread is equally friendly to a juicy steak, a whole fish or a Caprese salad.