Gluten-Free Thanksgiving Stuffing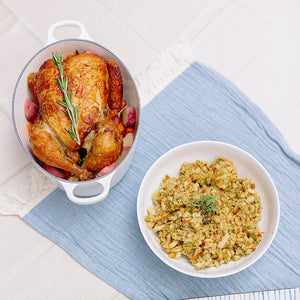 Ingredients

:

1 package MYBREAD® gluten-free bread cubes (7 OZ or approximately 6 cups). Bread cubes included in MYBREAD Thanksgiving Pack.
1 pound ground pork sausage (omit sausage for a meat-free version)
2 shallots, minced
2 celery stalks, diced
1 yellow onion, diced
2 carrots, diced
4 tablespoons unsalted butter (sub oil of choice to make dairy-free)
2 teaspoons dried sage
2 teaspoons dried thyme
½ teaspoon sea salt
½ teaspoon ground black pepper
½ cup dry white wine
1 cup gluten-free chicken broth (use 1¼ cups if omitting the sausage)
¼ cup fresh parsley, chopped

 
Directions

:

Preheat oven to 350F.

In a medium skillet, cook the sausage over medium heat for 8-10 minutes, until brown and cooked through, breaking up the sausage with a spatula while cooking.

Remove sausage from the pan. Leave 1 tablespoon of sausage grease in the pan and add butter.

When the butter is melted, add the shallot, celery, onion and carrots. Cook, stirring frequently, until soft and golden brown. 

Add sage, thyme, salt and pepper, cook for 2 minutes. Add wine and cook until liquid is reduced by half.

In a large bowl, combine vegetable mixture with MYBREAD® gluten-free bread cubes, gluten-free chicken broth and parsley. Mix gently until combined.

Transfer to a lightly greased 9" x 13" baking dish.

Bake until golden brown, approximately 30 minutes.

Note: If preparing the night before, do not bake. Instead, store tightly covered in the refrigerator. Let sit on the counter 30-40 minutes prior to baking.

Optional: add additional chicken both while baking if you enjoy extra moist stuffing.

GOBBLE, GOBBLE, Enjoy!

 
1 Response
Leave a comment
Comments will be approved before showing up.