Crockpot Chicken Tikka Masala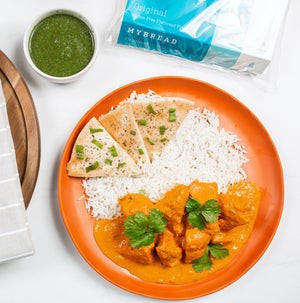 Ingredients

:

1½ pounds chicken thighs
1 onion large, finely chopped
3 cloves garlic, minced
1 1-inch piece ginger
2 tablespoons tomato paste
2 tablespoons garam masala
2 teaspoons ground cumin
2 teaspoons ground turmeric
2 teaspoons ground coriander
2 teaspoons chili powder
2 teaspoons paprika
2 teaspoons kosher salt
3 ½ cups tomato sauce
¾ cup heavy cream or coconut milk
Cilantro, freshly chopped
2 cups basmati rice
½ cup yogurt
1 package MYBREAD® Flatbread for garlic naan.

 
Directions:
Marinate chicken in ½ cup yogurt overnight. 
The next morning...
Shake chicken to remove excess yogurt.
Cut chicken thighs into bit-sized pieces.
Combine chicken in a crockpot with onion, garlic, ginger, tomato paste, garam masala, cumin, turmeric, coriander, chili powder, paprika and salt.
Stir until chicken is evenly coated with spices.
Add tomato sauce.
Cook in slow-cooker for 4 hours on high or 8 hours on low.
Stir in the cream/coconut milk 15 minutes before the end of cooking.
Add additional garam masala or salt to taste.
Serve with basmati rice and pair with MYBREAD® garlic butter gluten-free naan.
Leave a comment
Comments will be approved before showing up.