Fruit Parfait with Sweet Gluten-Free Pita Crisps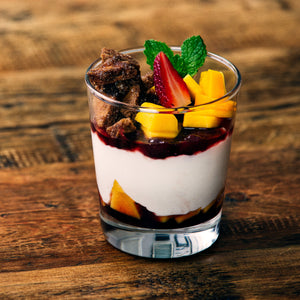 Ingredients - Sweet Gluten-Free Pita Crisps

:

2 thawed MYBREAD® Pitas, torn into bite size pieces
3 tablespoons unsalted butter
½ cup sugar
1 teaspoon ground ceylon cinnamon
¼ teaspoon ground cardamom
Pinch kosher salt


Ingredients - Parfait

:

1 cup Greek yogurt
4 strawberries, sliced
1 mango, peeled and sliced
2 tablespoons strawberry jam
2 mint leaves, torn into pieces


Directions - Sweet Gluten-Free Pita Crisps

:

Preheat the oven to 350 F

Line a baking sheet with parchment paper or a non-stick liner.

Place torn, bite-sized pieces of MYBREAD Pita in a bowl and set aside.

Melt butter in a skillet over medium heat and cook until it begins to brown.

Remove the skillet from heat.

Add the torn pita pieces and sugar to the butter, stir to combine.

Sprinkle ceylon cinnamon, cardamom and salt over the top, gently stir to combine.

Transfer the pita mixture to the prepared baking sheet.

Bake until the butter and sugar coating caramelizes, about 20-30 minutes.

Remove from the oven and let cool.

 
Parfait Assembly

:

Choose a small glass.

Line the bottom of the glass with 1/2 of the strawberry jam. 

Layer pieces of strawberry and mango on top of the jam.

Layer the sweet gluten-free pita crisps on top of the fruit. 

Top with half of the greek yogurt.

Repeat the layering process once more.

Garnish with any remaining strawberries, mango, pita crisps and mint.

Tip: store covered in the refrigerator for one day, or eat it all right away!
Leave a comment
Comments will be approved before showing up.