Decadent Cheese Fondue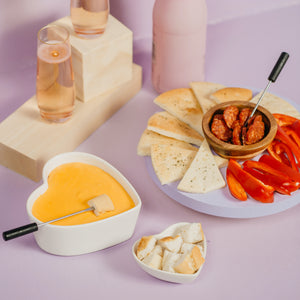 Ingredients

:

½ pound imported Swiss cheese, shredded
½ pound Gruyere cheese, shredded
2 tablespoons cornstarch
1 clove garlic, peeled
1 cup dry white wine (such as Sauvignan Blanc)
1 tablespoon lemon juice
1 tablespoon brandy
½ teaspoon dry mustard
Pinch nutmeg
Plenty of MYBREAD® for dipping
 
Directions

:

Coat the cheeses with cornstarch in a small bowl and set aside.

Rub the inside of the ceramic fondue pot with the garlic.

Over a medium heat, add the wine and lemon juice. Bring to a gentle simmer.

Stir the cheese into the simmering liquid gradually (do this gradually for a smooth dip).

Once smooth, stir in the brandy, mustard and nutmeg.

Heat or toast MYBREAD® baguettes, pitas, breadsticks or rolls and cut into "dipper" size pieces.

Serve bread with apples and vegetables.

Dip and enjoy.
Leave a comment
Comments will be approved before showing up.
---
Also in Recipes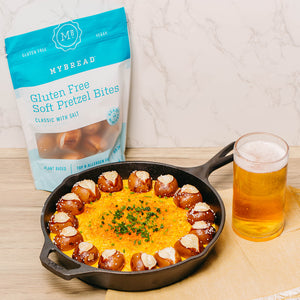 This creamy, smooth GF beer cheese dip is an easy appetizer recipe that's ready in 15 minutes. Flavored with your favorite GF beer, garlic, a bit of dijon mustard, and lots of cheddar cheese, this dip is extra flavorful and awesome with MYBREAD Soft Pretzel Bites!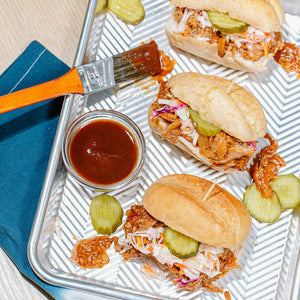 Slow Cooked, Texas-style pulled pork that is served on a buttered and toasted gluten-free slider rolls. A family favorite.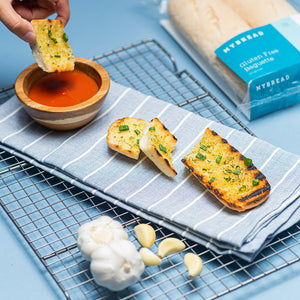 A quick and easy, but delicious side for summer dinners. Hot, smoky garlic bread is equally friendly to a juicy steak, a whole fish or a Caprese salad.