Creamy Whipped Feta Dip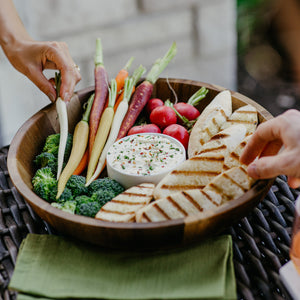 Ingredients

:

7 ounces feta cheese (approximately 1 cup crumbled)
1 tablespoon grated lemon zest, plus extra for garnish
1-2 tablespoons fresh lemon juice
1 clove of garlic, minced
6 tablespoons extra-virgin olive oil, plus extra for garnish
Pinch of red pepper flakes for garnish
Package of MYBREAD® Gluten-Free Pita or Baguette for dipping

 
Directions

:

Place feta cheese, lemon zest, lemon juice, garlic, and olive oil in a blender and whir until combined, but still slightly chunky.

Taste, if dip is too salty for your liking, add more lemon juice.

Spoon into a serving bowl.

Garnish with a drizzle of olive oil, and pinch of red pepper flakes and lemon zest.

 
For Grilled Pita or Baguette

:

Brush thawed MYBREAD Pita or Baguette with olive oil.

Grill using indirect heat for 5-8 minutes or until bread develops beautiful grill marks.

Cut pita into wedges or baguette into crudités.

Alternative Prep: Try heating MYBREAD Pita on a hot skillet for approximately 3 minutes per side or until pita becomes soft and pliable. Try heating thawed MYBREAD Baguette in a 400 F pre-heated oven for approximately 5 minutes.
Leave a comment
Comments will be approved before showing up.