Cranberry Brie Dip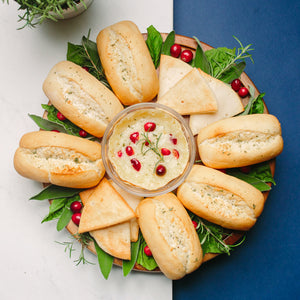 Ingredients

:

1 (12.3 ounce) round brie cheese (room temperature)
¼ cup cranberry sauce (whole berry, not jellied)
¼ cup shredded white cheddar
1 sprig rosemary
Pinch freshly cracked black pepper
Drizzle of honey for garnish
MYBREAD® Dinner Rolls and Pita
2 tablespoon butter melted
1 tablespoon freshly chopped parsley
Pinch Kosher salt


Directions:
Preheat oven to 375 F.
Stir together melted butter and fresh parsley.
Brush MYBREAD Dinner Rolls and Pita the butter mixture.
Season MYBREAD Rolls and Pita with salt and pepper.
Place brie in oven safe dish, use pairing knife to remove top rind.
Bake the brie for approximately 8 minutes (or until cheese is melty).
Add cranberry sauce and cheddar to melted brie and gently fold to combine.
Top brie with rosemary.
Bake the brie again for 5-7 minutes. At the same time, heat the MYBREAD Dinner Rolls and Pita in the oven.
Arrange the rolls and pita in a wreath around the dip.
Drizzle with honey and serve hot.
Leave a comment
Comments will be approved before showing up.
---
Also in Recipes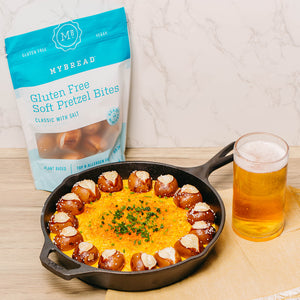 This creamy, smooth GF beer cheese dip is an easy appetizer recipe that's ready in 15 minutes. Flavored with your favorite GF beer, garlic, a bit of dijon mustard, and lots of cheddar cheese, this dip is extra flavorful and awesome with MYBREAD Soft Pretzel Bites!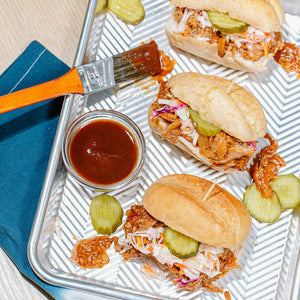 Slow Cooked, Texas-style pulled pork that is served on a buttered and toasted gluten-free slider rolls. A family favorite.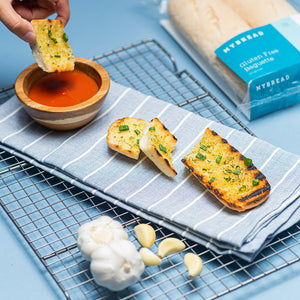 A quick and easy, but delicious side for summer dinners. Hot, smoky garlic bread is equally friendly to a juicy steak, a whole fish or a Caprese salad.